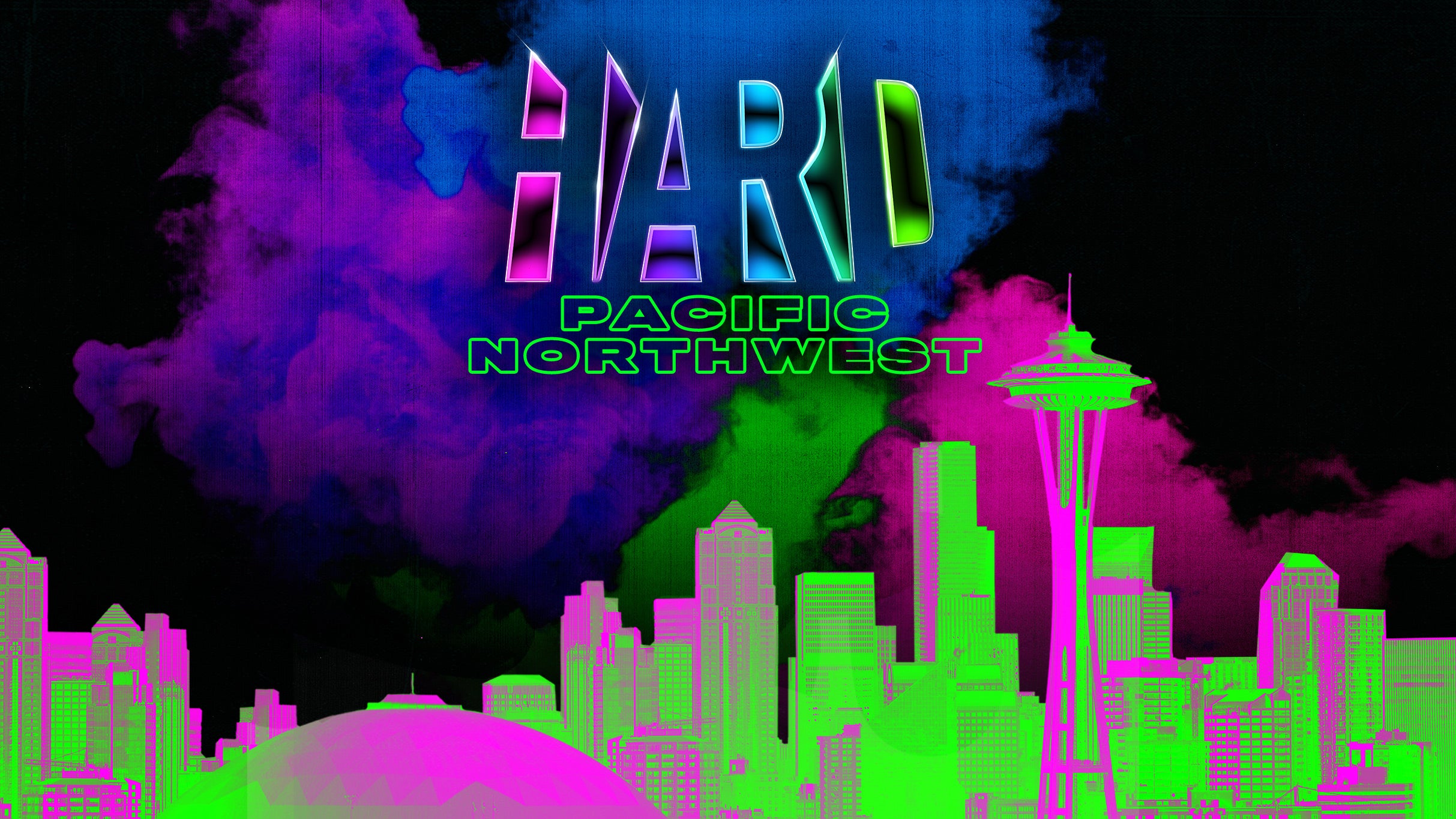 HARD Pacific Northwest
HARD Pacific Northwest
Event Info
Patrons attending must be 18 years of age or older with valid, government issued photo ID. Please review the EDM Guidelines to expedite entry into the building.
Guidelines & Restrictions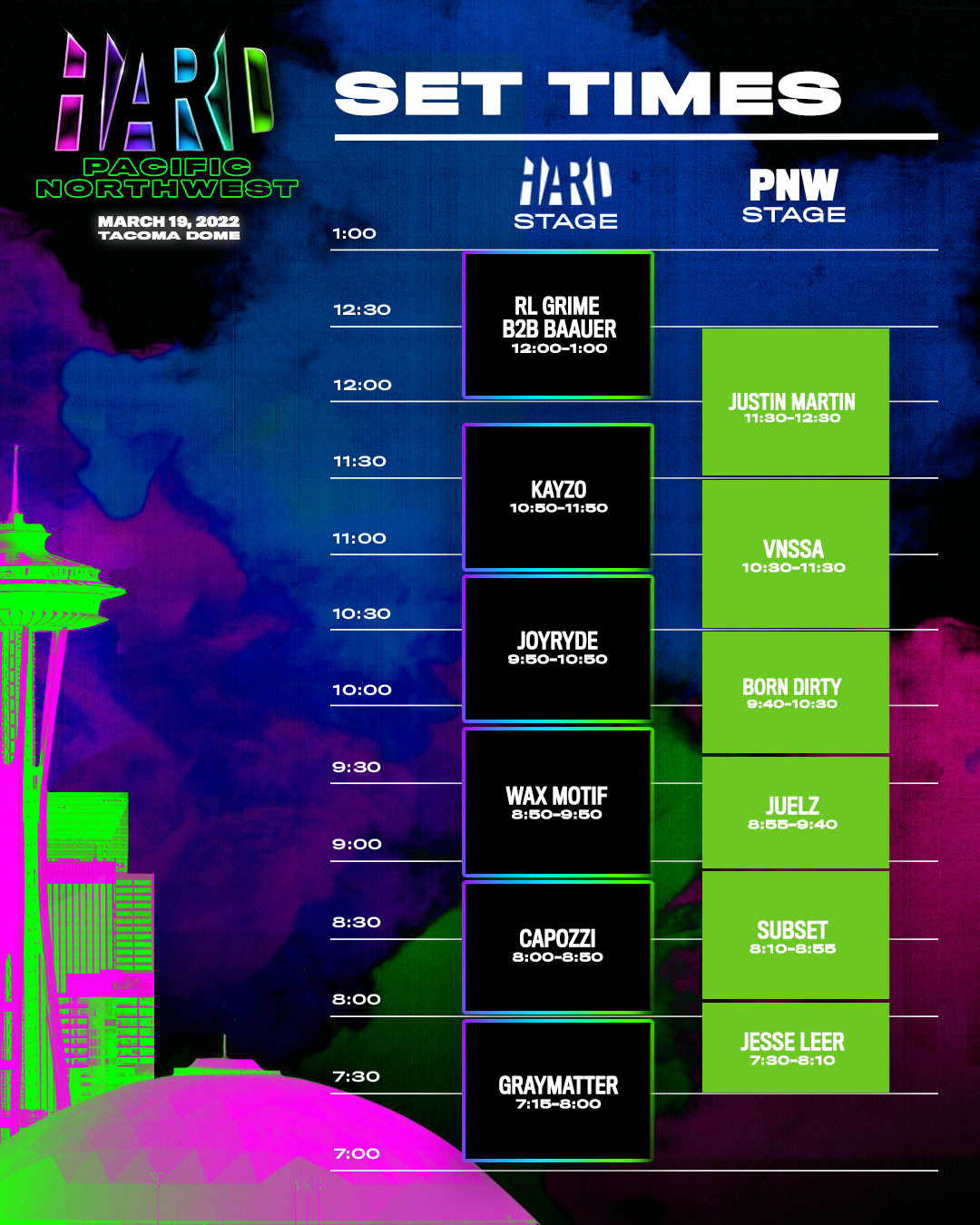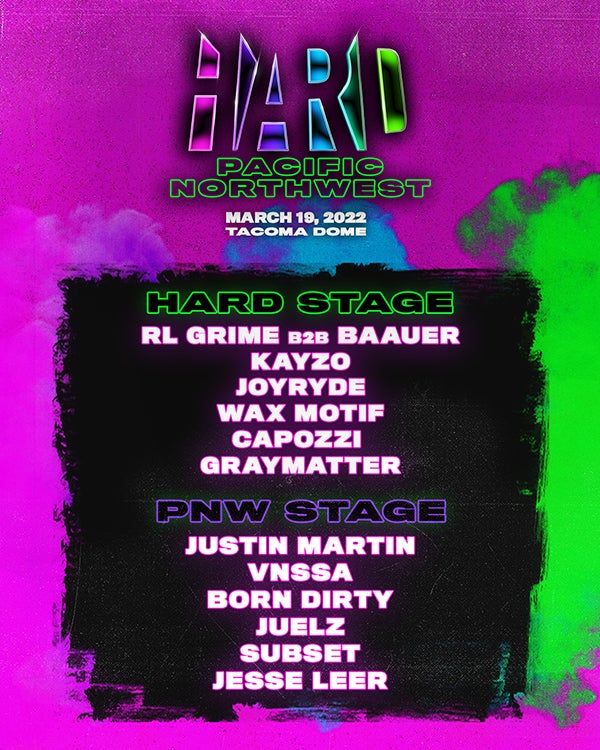 HARD STAGE
RL Grime b2b Baauer
Kayzo
JOYRYDE
Wax Motif
Capozzi
GRAYMATTER
PNW STAGE
Justin Martin
VNSSA
Born Dirty
Juelz
Subset
Jesse Leer
Vaccination & Testing - Not Required
Effective March 1, 2022, proof of vaccination or negative testing is no longer required by Washington State mandate to attend large events.
Please note: event organizers may enact additional requirements.
Face Covering / Health & Safety Guidelines
Face coverings are no longer required for our guests by state order.
Please note: event organizers may enact additional requirements and individuals may choose to wear masks (eyes must be visible).
Please continue to monitor this page, as well as our Reopening page for current health and safety protocols.
Patrons attending must be 18 years of age or older with valid, government issued photo ID.

Temporary/Paper IDs are allowed if accompanied by a valid or expired form of government ID that includes a photo, such as an expired WA drivers license, passport, or military ID.

Photo copies or pictures of IDs will NOT be accepted.
The Tacoma Dome is a cashless facility, including all concession and merchandise sales. Google Pay and Apple Pay are also available at concession points of sale. There are cash-to-card kiosks (reverse ATM's) where guests can exchange their cash for a Tacoma Dome VISA card. Card balances remain usable anywhere after the event. Going cashless improves the transaction process, reduces wait times, and limits guest to staff contact. Cashless parking payment options are also available. Please visit our Cashless FAQs for more information.
Please visit our EDM Guidelines and Clear Bag policy page for full details.
GO CLEAR FOR SAFETY
The Tacoma Dome has a clear bag policy to expedite entry and reduce touch points for security staff and guests.
Tacoma Dome Bag Policy
Bags may only be clear plastic, vinyl, or PVC, sized 12"x6"x12" or smaller. Color tinted or mesh bags are not considered clear.
Small clutch purses are okay if sized 4.5"x6.5" or smaller
Fanny packs must be CLEAR even if it is 4.5" x 6.5" or smaller
One gallon plastic storage bags are okay
Tacoma Dome clear bags may be available for purchase on-site and at Stocklist Goods
Binbox lockers are available for rent outside the venue for $10-$15 (card only, no cash)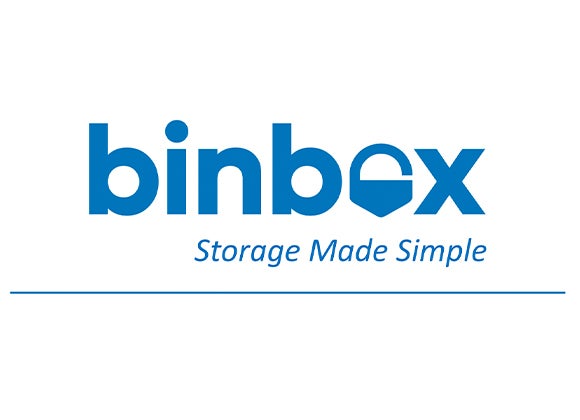 Let us guide your way! Please follow our recommended routes - use of Exit 133 from I-5 is not advised. For real-time traffic, we suggest using Waze. Opening at 4pm, parking in Tacoma Dome lots is $20 and will be limited.
Check out the Plan Your Visit page for alternate parking and transportation options.
Main doors are scheduled to open at approximately 7pm
Guests should use Lower NW Doors
VIP entry at Exhibition Hall entry doors
Re-entry is NOT permitted. Once your event ticket is scanned and you enter, you are in. Have fun!
Please review the Guidelines & Prohibited Items list for additional information on bag policy, search procedures, and more.
Weapons of any kind, including pocket knives, are not allowed.
Final approval of any items will be at the discretion of security.
Only bring necessary items to expedite the entry process and have digital tickets, ID, and vaccination/testing information readily available.
All patrons must be at least 18 years old and have a valid, government issued photo ID for entry. If you see something, say something™.
Binbox lockers are available to rent outside the building near the Box Office, for $10-$15 card only.
Food, Beverage, & Water Stations
Concessions will be available for purchase.
For guests 21+, two cocktail bars are located on the arena floor.
FREE water stations will be provided at locations throughout the arena
NO Camelbaks, Hydrapaks or Bota Bags
EMPTY, CLEAR plastic water bottles will be permitted (color tinted bottles are not considered clear). No other materials will be permitted i.e. aluminum.
NO Outside Food or Beverages OF ANY KIND
Non-professional cameras are allowed (no detachable lens or flashes).
No video recording devices, audio recording devices, GoPros, iPads, selfie sticks, gimbals, monopods, or tripods.