Tacoma Guitar Festival
Tacoma Guitar Festival
Tacoma Guitar Festival website
The Tacoma Guitar Festival returns to the Tacoma Dome for its fifth year featuring live performances from iconic musicians, more than 120 vendors, collectors and exhibitors. Come to buy, trade or sell vintage, used and new guitars, amps, pedals, mandos, banjos, ukes, vinyl records, guitar accessories and more! Kids age 12 & under are free with a paid adult.
Tickets are also available for purchase on-site at the Heritage Bank Tacoma Dome Box Office.
Full lineup:
Dave Amato from REO Speedwagon
Mark Holcomb from Periphery
Striking Matches
Angus Clark from Trans-Siberian Orchestra
Griff Hamlin and The Single Barrel Blues Band
Larry Mitchell
Terry Robb
Carl Tosten
SATURDAY SCHEDULE (APRIL 27)
Doors open at 9:30 AM
10:00 AM – 11:00 AM // Patrick Kennison
11:20 AM – 12:20 PM // Striking Matches
12:40 PM – 1:40 PM // Griff Hamlin and The Single Barrel Blues Band
2:00 PM – 3:00 PM // Dave Amato
3:20 PM – 4:20 PM // Mark Holcomb
SUNDAY SCHEDULE (APRIL 28)
Doors open at 10:00 AM
10:30 AM – 11:30 AM // Carl Tosten
11:50 AM – 12:50 PM // Angus Clark
1:10 PM – 2:10 PM // Larry Mitchell
2:30 PM – 3:30 PM // Terry Robb
* Show times and artists are subject to change
Let us guide your way! Please follow our recommended routes. For real-time traffic, we suggest using Waze. Parking in Tacoma Dome lots is FREE, provided by the Tacoma Guitar Festival.
Check out the Plan Your Visit page for alternate parking and transportation options.
Security measures are in place for all Tacoma Dome events, including metal detectors, bag size restrictions, and bag searches. Weapons of any kind, including pocket knives, are not allowed. If you see something, say something™. Visit our Security page for more details.
Exhibition Hall doors open at 9:30am Saturday and at 10am on Sunday.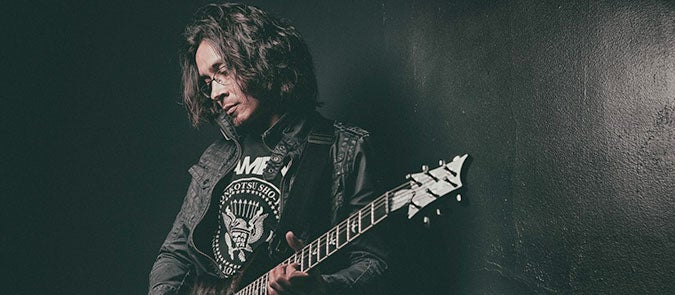 The band Periphery has become a force to be reckoned with in the progressive metal scene thanks to their complex rhythms and soaring melodies. Guitarist Mark Holcomb helps achieve this full, lethal sound with his PRS guitars and signature Seymour Duncan Alpha and Omega pickups. PRS and Holcomb have worked closely together to develop a truly unique guitar for the SE Series lineup.

"With my SE signature model, we managed to capture all of the defining characteristics of my Maryland-made guitar and turn it into a streamlined, less-costly package. It is an incredibly special instrument, and one that is now the primary focus of my rig in the studio and onstage." - Mark Holcomb, Periphery
Dave Amato - Bio Coming Soon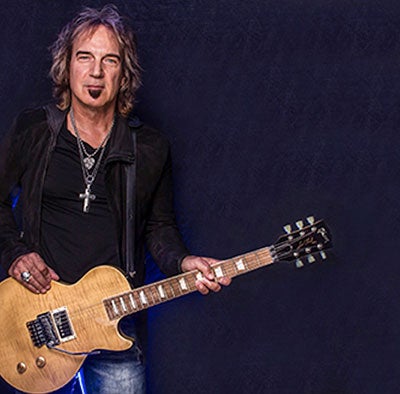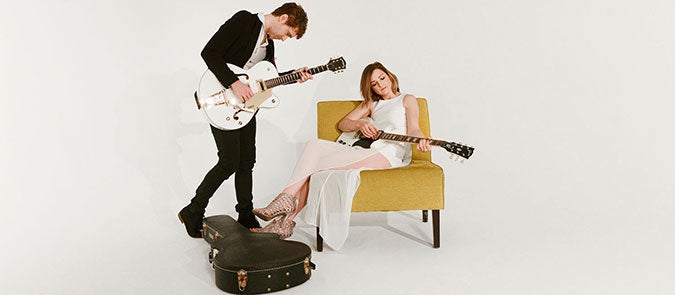 "We met in guitar class" is not a thing many people can say...but Sarah Zimmermann and Justin Davis performed together for the first time on the very same day they met...in guitar class.

Fast forward, following the international success of Striking Matches' 2015 album "Nothing But The Silence", produced by T-Bone Burnett, and 9 songs on TV's "Nashville", Davis and Zimmermann have teamed up with Kennedy Karate (BØRNS, Silver Sun Pickups) for their second LP, an album in a style they call "blues-pop" - an amalgamation of their blues and roots based guitar riffs, combined with pop melodies - due out this summer.

Striking Matches are gearing up for an international tour with dates in the US, UK, and Europe all throughout the summer and fall, along with the release of the new record.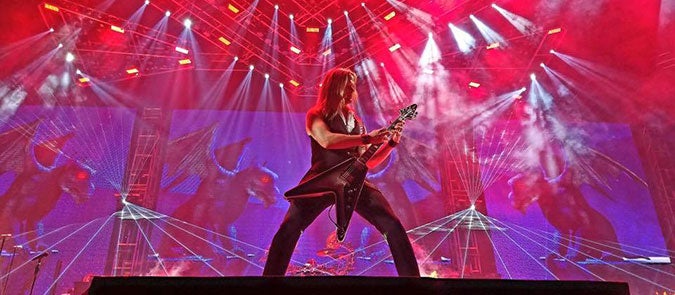 Angus Clark is a New York based guitarist most well known for his 18 years as a touring and recording guitarist for the Trans-Siberian Orchestra. He has also performed and/or recorded with Kitaro (Grammy-winning New Age artist), Joe Lynn Turner (Rainbow, Deep Purple), Metal Church, DD Verni (Overkill), Geoff Tate (Queensryche), Paul Rodgers, Joe Walsh, Jon Anderson, members of Jethro Tull, and numerous others including having appeared regularly in the Broadway musical "Rock of Ages" during its 6 year run.

A successful educator, he has authored numerous video courses distributed via TrueFire.com, and a textbook that is part of the Musician's Institute guitar curriculum. He is also an in demand keynote speaker as a part of his company SongDivision, where he helps corporate leaders define their purpose through songwriting.

Angus promises to deliver a high energy clinic that offers both performance and some tips on chops, gear, and building a career out of playing the guitar.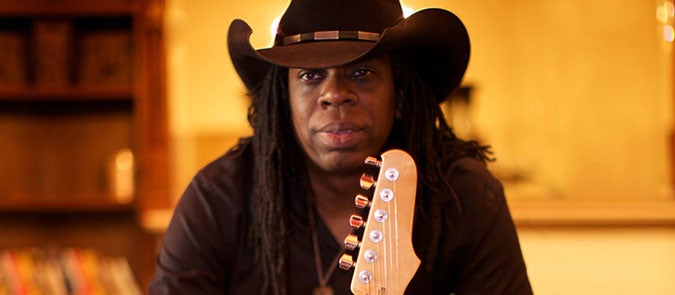 Larry Mitchell is a Grammy award-winning producer, engineer and performer who has toured the world playing guitar with well-known artists including Tracy Chapman, Billy Squier, Ric Ocasek and Miguel Bosé. In his original compositions, Larry skillfully weaves guitar textures that showcase his virtuosity as a solo artist and ensemble player.

As an artist, he has released 8 solo records and won a San Diego Music Award for best pop jazz artist. Larry is currently touring promoting his 2018 release "Deja Vu"

As a producer-engineer, Larry has won 26 New Mexico Music Awards in various categories from pop, adult contemporary, rap, rock, country World music and Native American. He won a Grammy Award for producing, engineering and performing on "Totemic Flute Chants" by Native American artist Johnny Whitehorse, who is better known as Robert Mirabal of Taos Pueblo.

Larry is currently touring with his own trio as well as solo shows in support of "Deja Vu"

He has many long-standing endorsements and relationships with companies such as Ibanez Guitars, D'Addario Strings, D'Marzio Pickups, Tech 21 NYC, Cord-Lox, Dava Picks, Antares tech, Sennhieser Wireless systems, Pro Bag gig bags, Ultimate Ears, Peavey, Majik Box, Fractal Audio and now with Knaggs guitars and Godin Acoustic guitars, Morrow Audio cables.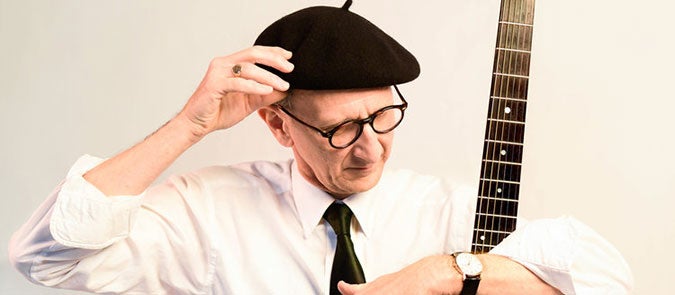 TERRY ROBB has been praised by Rolling Stone, Vintage Guitar, Down Beat, Acoustic Guitar, Living Blues, Guitar Player, Blues Blast, Guitar World, Blues Matters, Blues Revue, Oprah's O Magazine and countless more esteemed journals, placing him among the top acoustic blues guitarists of our time. His signature fingerpicking style landed him in the Oregon Music Hall of Fame and the Cascade Blues Association Hall of Fame, and earned him international acclaim from music critics, peers and fans. Incorporating elements from the Mississippi Delta, ragtime, country, swing and jazz, Robb is a dynamic live performer with an unmistakable one-man-band sound. "Exquisite musicality…unquestionably, Robb ranks right up there with the heavy hitters, a player of dazzling skill and technique…finger gawkers flood to his shows," said Frank Matheis of Living Blues magazine. "It's the rare guitarist who can whip off a killer 12-bar blues solo, then turn around fingerpick Travis-style with speed and subtlety," mused Ian Zack of Acoustic Guitar magazine. And Dan Forte of Vintage Guitar magazine hailed him as "one of the best players, on acoustic and electric, embracing a range of blues styles and then some."
With more than 15 releases under his name, Robb's award-winning, blues chart-topping discography features collaborations with steel-string guitar icon John Fahey, Maria Muldaur, Eddy Clearwater, Ike Willis and Curtis Salgado. His latest release Cool On The Bloom garnered a nomination as 2017 Best Acoustic Album by Blues Blast Music Awards. Robb has toured nationally with Buddy Guy and Steve Miller, shared the stage with B.B. King, John Fahey, Albert Lee, Joe Cocker, Bo Diddley, David Crosby, George Thorogood, Leo Kottke, Johnny Winter and many more all-stars, and appeared as a guest of "Late Night with Conan O'Brien," the NBA Trail Blazers and the Oregon Symphony.
An acclaimed record producer, arranger and session guitarist, his work is featured in Hollywood films, documentaries and biographies, such as "The Horse Whisperer," "Don't Worry, He Won't Get Far On Foot," and Dance of Death: The Life of John Fahey, American Guitarist. He produced Alice Stuart's album Can't Find No Heaven, nominated for Grammy and Blues Music Awards, and John Fahey's Let Go which received a four-star review by Rolling Stone. A member of the Cascade Blues Association Hall of Fame, Robb was honored the eponymous "Terry Robb" Acoustic Guitar Muddy Award after winning the prize for 19 consecutive years, and in 2017 he received the Lifetime Achievement Muddy Award. Terry Robb was born in Vancouver, British Columbia, raised in the United States and resides in Portland, Oregon.
Since 1986, guitarist Griff Hamlin has already enjoyed a successful and varied career that has spanned nearly 3 decades. He is constantly active as a session and performing guitarist and vocalist for a wide variety of musical groups, sometimes performing as many as 200 concerts per year.

His career began in high school where as a junior he began teaching private lessons and doing gigs around the Boston, MA area. In 1989, he moved to Orange County, CA, where he has continued to teach privately, and enjoy an active career as a freelance guitarist, teacher, vocalist, bandleader, and songwriter.

After having studied privately throughout most of his life, in 1998 Griff attended the prestigious USC Thornton School of Music where he had the opportunity to study and perform with such guitar legends as Steve Trovato, Pat Kelley, Frank Potenza, and Joe Diorio.

Griff has recorded two solo blues/rock albums, one of original blues/rock songs in 2000, and one live concert recorded in Krosno, Poland in May of 2004. His first album garnered him an Orange County Music Award nomination for "Best Blues."

In addition, he has performed on countless demo recordings, and several independently released albums, most notably by classical guitarist, Eric Henderson, who once humbly introduced Griff at a concert as "the greatest electric guitarist in the world."

Griff has also done two European tours in support of his own music, and has performed overseas for US troops in Turkey, Italy, and Korea. Griff has also been a regular performer at Disneyland off and on for over 15 years, and has done gigs for high profile clients such as ABC Television, The California State University Fullerton Alumni Association, Toyota, Maleluca, Sunrider, and many others.

In 2006 Griff created an online guitar course called Playing Through The Blues which turned into Blues Guitar Unleashed in 2008. Since then, Blues Guitar Unleashed has gone on to become the brand name behind over a dozen guitar learning courses and products for guitar players of all levels on acoustic or electric guitar.

With over 40,000 students worldwide, Blues Guitar Unleashed has expanded now to include yearly live events that sell out in a matter of hours, as well as bringing on additional instructors such as Steve Trovato and Bob Murnahan.

Largely from the encouragement of his students around the world and the recent success of his band Griff Hamlin & The Circle City Horns (with Griff's wife, Laura, on saxophone).

Griff currently lives in Corona, California with his wife, Laura, and their children.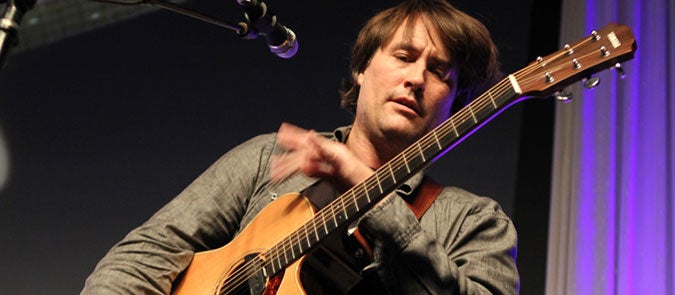 "Carl Tosten writes songs layered with warmth, intelligence, oblique humor, and astute observation of human nature. His dynamic vocals and rhythmic, percussive guitar style fill his live performances with intense energy, stories, and songs that captivate and inspire his audiences. One of the most unique talents of the day." —Bill Gonder, Gibson Montana

Carl Tosten has a passion for guitars that began when his father bought him his first guitar at age 11. From his early years in a small town in Eastern Washington, his playing centered around the electric guitar, performing with various groups and diverse styles ranging from country to rock to jazz. In the mid 1990's, after years of eclectic listening and playing, he began to focus fully on the acoustic guitar, creating masterful acoustic fingerstyle compositions which combine alternate tunings, multiple capos, percussive body slaps and right-hand tapping. Known for his expressive and energetic guitar style, Tosten has been described as an "Acoustic One-Man Band." His self-produced solo recordings combine his unique and expressive guitar style with his strong and soulful voice. He writes songs layered with warmth, intelligence, oblique humor and acute observation of human nature. His dynamic vocals and rhythmic, percussive guitar style fill his performances with intense energy, stories and music — weaving a web of writing, singing and playing that captivates and inspires his audiences.

Carl has played with and or shared the stage with, Brent Mason, Stanley Jordan, Tuck & Patti, Lila Downs, Lee Ritenour, Seymour Duncan, Stu Hamm, Mike Stern, Rick Vito, Muriel Anderson, Nokie Edwards, Frank Vignola, Carl Verheyen, and The California Guitar Trio.
Concessions will be available for purchase.
Outside food & beverage are not allowed. Exceptions may be granted for baby formula, baby bottles, baby food, medication, or other special health-related needs.